Unique Places in Chinatown to Visit and Shop this Chinese New Year
I was psyched to explore Singapore's unique Chinatown for the very first time. My visit was just ahead of Chinese New Year, and I could already see how Chinatown was gearing up for the festivities. Speaking to the various shopkeepers, many of whom have been in business for over 30 years, I learned that the place completely transforms every year with its Chinatown Festival Bazaar.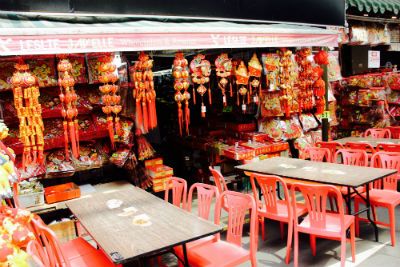 Shops entice patrons by displaying some of their finest Lunar New Year decorations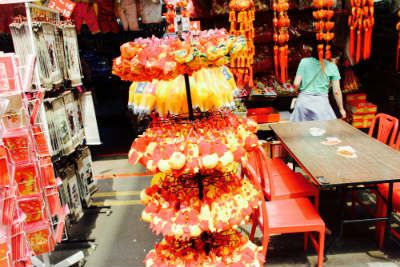 Adorable merchandises to usher in the Year of the Rooster
As Chinese New Year is based on the Lunar calendar (as opposed to the Solar calendar that we are accustomed to), there isn't a fixed yearly date for both the festival and bazaar. Your best bet would be to head to Chinatown anywhere between 2-3 weeks earlier right up till the night before Chinese New Year. Hot tip: prices for many of the items on sale are slashed on the final night of the bazaar.
Getting off at Chinatown MRT station, I walked along the main road before heading down Temple Street, a wide street that led to the heart of Chinatown. I walked down the shophouses which lined the street till I came across a slightly nondescript shop selling antiques.
Ling Wei Zhen Trading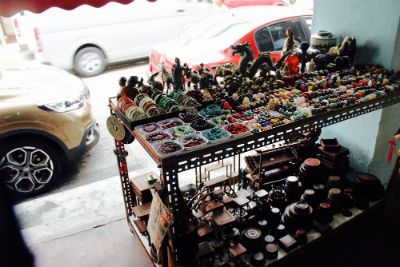 Souvenirs displayed outside Ling Wei Zhen Antiques & Coins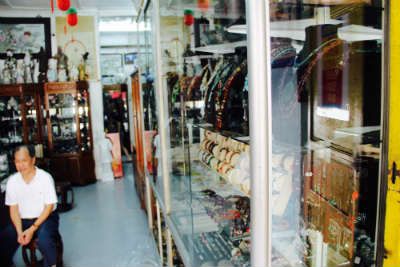 The store sells old antiques and relics from Singapore's past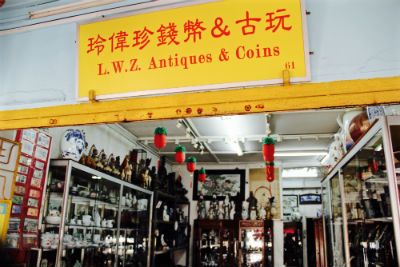 Antiques and old relics are displayed neatly in cabinets for easy browsing
Laid outside the store was a small display of souvenirs, ranging from small wooden carvings to semi-precious stone bangles. Intrigued, partly because I am secretly obsessed with wooden carvings, I entered the small store.
Speaking briefly to the store owner, I learned that the store dealt in antiques and memorabilia; the souvenirs outside made great gifts for visiting tourists.
The shop's interior was filled with old antiques and relics from Singapore's past: vintage notes, old furniture, and ancient Chinese coins were among the antiques either displayed behind a glass case or strung up from the ceiling.
The store owner expressed an excitement for Chinese New Year, when business is expected to thrive. Temple Street would also be cordoned-off from vehicles, and would be a main part of the Chinatown Festival Bazaar for Chinese New Year.
I exited the store and followed the road past two streets, and as I turned the corner, another nondescript shop piqued my interest. Just outside, a middle-aged man carved out a ceramic seal with intense precision. A small crowd formed around him, watching his intricate work with his chisel.
Yong Gallery
260 South Bridge Road, Singapore 058809
Interested in what more this store had to offer, I entered. Filled with calligraphy work of all kinds, I found a table cluttered with calligraphy work-in-progress, lit by a skylight. Next to it was the owner of Yong Gallery, whom I learned was its namesake, Yong Cheong Thye.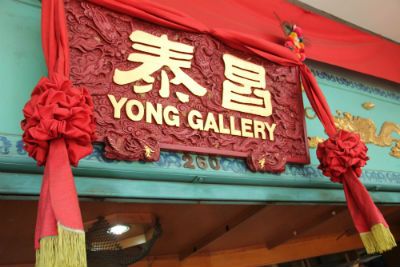 Staying true to its roots, Yong Gallery's signboard is displayed proudly in a traditional Chinese manner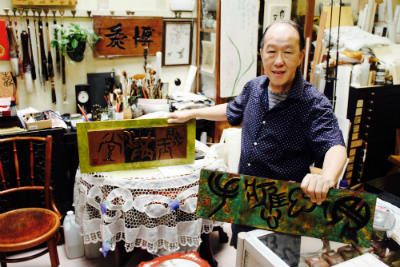 Yong Gallery's owner, Yong Chong Thye
Calligraphy with varying styles hang on the wall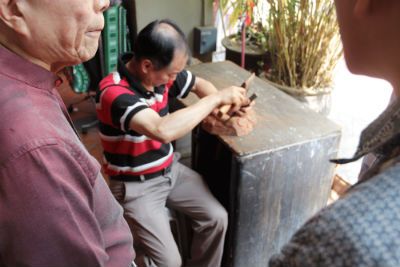 Mr Yong's protégé, Cheh Kai Hon, carving a seal
A calligraphy master, Yong's accolades preceded him, and as I looked through leaflets and the various trophies and plaques that decorated the store, Yong is an internationally recognised calligraphy artist. His colleague outside, carving the seal, was also his protégé Cheh Kai Hon.
For Chinese New Year, the pair would create intricately designed calligraphy work and seals to adorn houses for the festive period. While many opt for the more readily-available, mass-produced décor pieces, loyal customers and close friends often purchase calligraphy work from Yong Gallery for a unique and beautiful art piece to usher in the Chinese New Year. Together, Master Yong and Seal Carver Cheh keeps this tradition alive in Yong Gallery. I highly recommend visiting the store for some bespoke calligraphy work.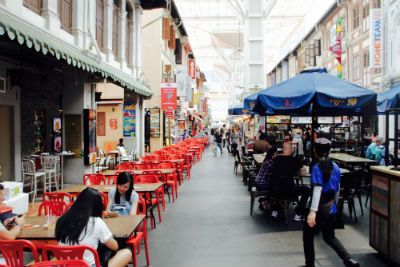 The 'center' of Chinatown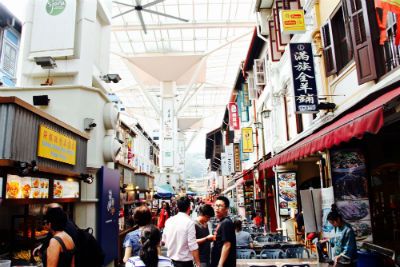 A food street filled with shophouses and food carts
Turning into Smith Street, I found myself in the 'centre' of Chinatown. This food street showcases how Singapore blends tradition with modernity. Traditional food carts form the center of the street, with other Chinese food stores in the shophouses on the side. Worried about bad weather or that it's too hot? The entire Smith street has turned into a food atrium of sorts, with a glass ceiling and industrial sized fans that keep visitors cool and rain-free.
There, I chanced upon one of the stores at the end of Smith Street, a tailor.
Abba's Department Store
4 Smith Street, Singapore 058918
The store owner, Jimmy, was friendly and approachable, and talked my ear off about his creations. Seeing a few cheongsams around, I asked if he sold any cheongsams for men. While he didn't carry any ready-made ones, he had bolts of fabric that could be easily made into a custom-made creation.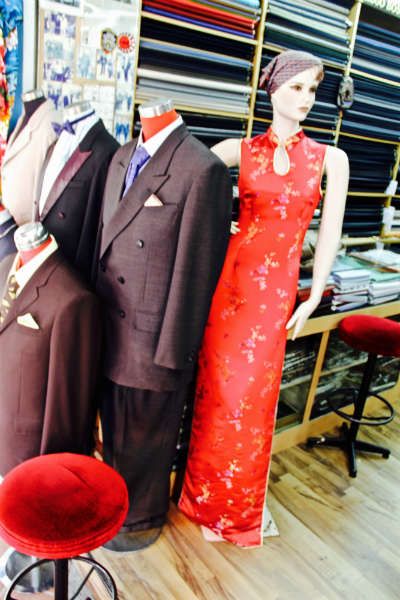 Cheongsams at Abba's Department Store
The store offers a combination of off-the-rack pieces, as well as bespoke creations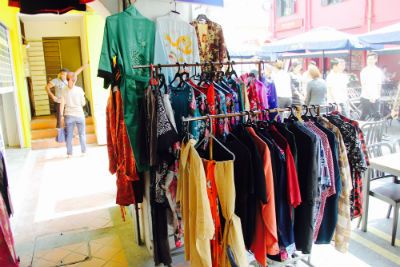 Ready for purchase creations displayed outside the store
For Chinese New Year, many local women would visit these tailors to be fitted for cheongsams. Jimmy offered off-the-rack pieces as well as bespoke pieces based on the customer's price range. If you're tailoring anything, just make sure you've got enough time to swing by and collect it.
I followed the bustling tourists out of the food atrium and into the larger Sago Street. I have heard great stories about Chinese New Year goodies and snacks from friends but had yet to find a store that sold them. So the pastry shop around the corner was too tempting to resist.
Chop Tai Chong Kok
34 Sago Street, Singapore 059026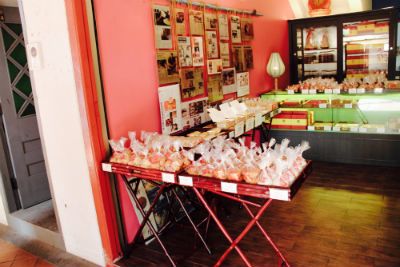 A range of traditional pastries and cookies are sold at Chop Tai Chong Kok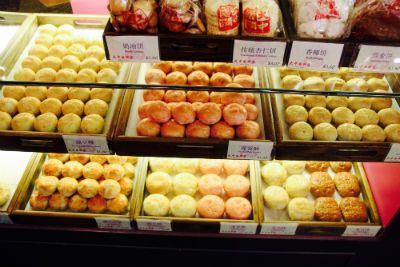 Buttery, flaky pastries are neatly arranged in a glass display, ready for the hungry passerby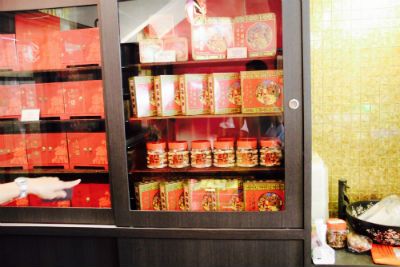 Patrons will be spoilt for choice on the various packagings for the new year goodies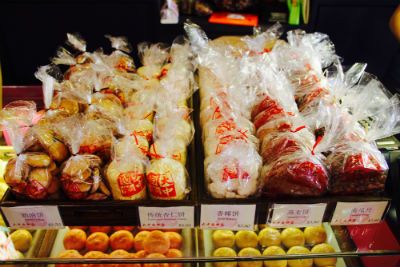 Traditional pastries are packed in plastic to preserve freshness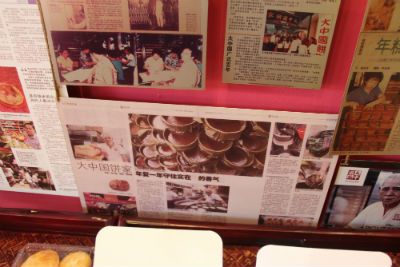 Newspaper clippings of the store's signature item, the Nian Gao
I walked into the partially air-conditioned bakery (which was great since the weather was scorching) and surveyed the place. The store was designed like a modern Chinese shophouse, and sold traditional Chinese pastries and cookies.
I had to struggle to contain myself; the store smelled so good. Think buttery, flaky, pie-crusts but more toasted, with whiffs of toasted nuts and sweet bean paste mixed in. The store manager explained that for Chinese New Year, the store's specialty was the nian gao - roughly translated to year cake. While they didn't stock it now, there were plenty of newspaper clippings of the store being featured for its signature Chinese New Year item.
Locals would flock down in the weeks preceding the holiday to buy these glutinous rice cakes, which were a staple for the festival. Aside from the Chinese New Year, the store also specialises in mooncakes: a baked tart with sweet bean paste fillings, pressed with an ornate stamp, and traditionally eaten during the Full Moon Festival. Having just celebrated its 81st birthday, it was great to see this store selling traditional Chinese pastries still going strong.
For my last visit of the day, I walked out of Chinatown's core, just along its outskirts. It's impressive how well-preserved Chinatown is amidst a rapidly modernising Singapore. Just outside these streets of shophouses, food carts, and roadside stalls, are sprawling (and very modern) towers. The last location on my list was a heritage centre for Lion dance.
Kong Chow Cultural Centre
321 New Bridge Road, Singapore 088758
Lion dances are these great theatrical performances of martial artists in these elaborately decorated lion costumes. Thought to bring in luck and prosperity, these are staples for Chinese New Year, as well as for occasions such as store openings where luck would come in handy. If you haven't seen one, you're in luck. Chinatown has free Lion dance performances every Saturday at 6:45pm. These are loud and festive performances.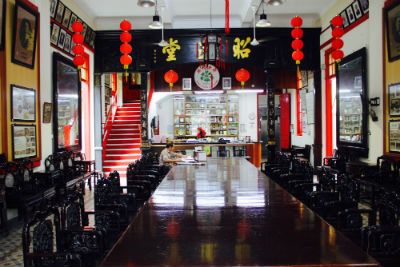 The interior of the Kong Chow Cultural Centre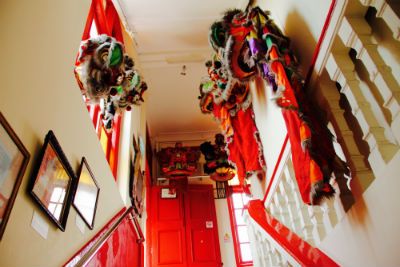 The numerous lion heads hanging on the walls of the cultural centre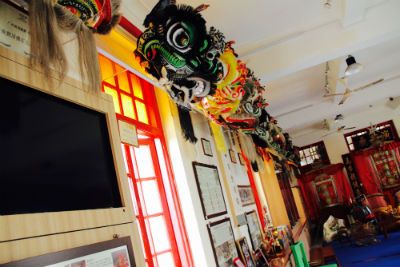 The vibrant lion heads add a splash of colour to the room
I initially thought that I was lost as the buildings became more and more modern. Next to a very modern spa building nestled the Kong Chow cultural centre. Celebrating traditional Chinese performance arts of Chinese Opera, Lion and Dragon dance, the cultural centre is a mini-museum of said traditions.
Previously a school for martial artists, the cultural centre now preserves the work and legacy of their past performers. The small building, which comprises of four storeys, has a foyer and sitting area on the first floor, a small stage for its Chinese Opera performances on the second floor, its Lion and Dragon dance area on the third floor, and a small shrine for its deities on the fourth.
Take your time and enjoy the different mini-exhibits. The illustrious history of the traditional Chinese performance arts are all documented on these walls.
As I left the cultural centre, I realised that Singapore's Chinatown was so unique for a rather simple reason. Rather than being a residential area for the Chinese diaspora as most Chinatowns are, Singapore's Chinatown, in a city with a majority Chinese population, is a heritage site for its Chinese history and tradition.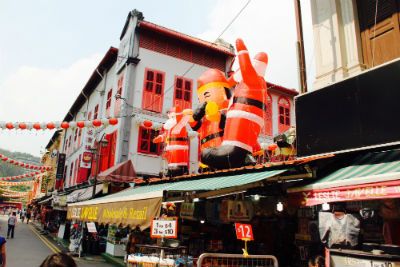 A miniature version of The God of Fortune beckons visitors from afar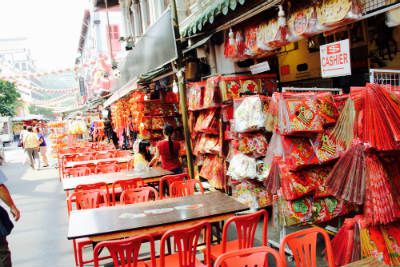 An array of Chinese New Year decorations will leave customers spoilt for choice
Within these rows of shophouses, you'll find the uniquely Singaporean Chinese tradition that you are not going to get anywhere else.
****
Chinatown is around 15 to 20-minute walk from the hotel. There are 2 affordable public bus services from the bus-stop outside the hotel to Chinatown - Buses 51 and 186 (alight at the third bus-stop for both services). The hotel also provides a free shuttle service for guests to this venue at selected timings daily (alight at the entrance to Clarke Quay MRT Station).
****
Written by Aron Goh
* All images used in this article are the author's own.