How to Travel Around Singapore
Available Convenient Transportation
Getting around Singapore is a breeze as the country has an extensive public transport system that is efficient, convenient and affordable. The 3 main modes of public transport are public buses, the Mass Rapid Transit (MRT), which is known as subway or metro rail system in some countries, and taxis.
A convenient online Singapore transportation and travel guide is the TransitLink eGuide website. It provides a one-stop point-to-point information on how to travel around in Singapore, the MRT and bus travel time and routes.
If you are using an iPhone, you can download a free app, SG NextBus from the iTunes Store that provides estimated arrival time at the bus stops you are waiting at. For Android phones, SG Buses is a popular app available for free on Google Play.
Free Hotel Shuttle Bus Service
You can hop on the hotel's free shuttle bus service if you want to travel to Orchard Road and Clarke Quay.
The bus departs from the hotel at 10:03 , 11:03, 13:03 and 15:03.
Luggage is not allowed on this free shuttle bus.
Public Buses

There is a bus-stop just outside the hotel with the following bus service numbers:
51 – To Chinatown, Clarke Quay MRT Station, Funan Digital Mall and Bugis
64 – To Plaza Singapura shopping mall, Dhoby Ghaut MRT Station, Little India and Mustafa Centre
123 – To 313@somerset, Somerset MRT Station, ION Orchard, Orchard Boulevard (next to Orchard Road), Orchard MRT Station and Singapore Botanic Gardens
186 – To Chinatown, Raffles Place MRT Station and Shenton Way
Singapore has one of the most efficient, comprehensive and affordable bus transportation services in the world.
The buses run on most routes between 06:00 and 00:00 and you can pay in cash or use an ez-link card, which is an electronic cash card that can be purchased in all Mass Rapid Transit (MRT) stations and bus interchanges.
If you are paying by cash, please ensure you have the exact amount as you will not be given change. You can check with the bus driver on the correct fare to your destination. It is advisable to pay in coins, which you can exchange for at our Front Office cashier.
Mass Rapid Transit (MRT)

The MRT stations nearest to the hotel are:
Clarke Quay - 4th bus-stop on bus 51 or 3rd bus-stop on 186
Chinatown- 3rd bus-stop on 186 (cross the road and walk to Chinatown Point)
Dhoby Ghaut - 5th bus-stop on bus 64
Orchard - 8th bus-stop on bus 123
Raffles (at Raffles Place) - 4th bus-stop on bus 186 (follow signage to MRT station)
Somerset - 6th bus-stop on bus 123
Tiong Bahru - from bus-stop opposite the hotel, 5th bus-stop on bus 123
The MRT (subway or metro rail system as known in some countries) is seen as one of the most modern and efficient in the world. It is a fast and inexpensive way mode of transportation and the train service runs from 05:30 to 00:30 daily. You can pay by cash or ez-link card.
If you are using an iPhone, you can download the free app, SMRTConnect from the iTunes Store. Created by SMRT, a main public transport company that runs most of Singapore's train network, you can access all bus and train services' information across its network while keeping up-to-date with any train service updates. You can even check train arrival times, search bus stop location or book an SMRT taxi through the application.
Taxis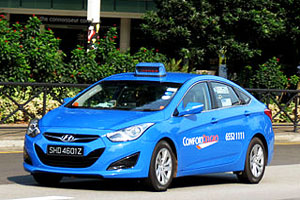 Taxis are readily available in Singapore. Depending on the types of taxis, the basic flag-down fare is S$3.00 to S$3.40, inclusive of the first 1 km or less. For a limousine, it is S$3.90.
There are additional surcharges during peak hours, from midnight to 05:59 or if you are alighting at selected prime locations, including Changi Airport.
If your destination includes going through Electronic Road Pricing (ERP) gantries in designated restricted zones, you will have to bear the additional ERP charges.
You can also call for a taxi at the following numbers:
Dial-A-Cab – (65) 6342 5222
CityCab and Comfort Taxi – (65) 6552 1111
SMRT Taxis – (65) 6555 8888
SMART Cabs – (65) 6485 7777
TransCab – (65) 6555 3333
Premier Taxis – (65) 6363 8888
Prime Taxi – (65) 6778 0808
Yellow-Top Taxi – (65) 6293 5545
Booking fees are applicable when you call for a taxi. Please click here for more details about the taxi fares and other information.
* All Information is correct at the time of publishing.